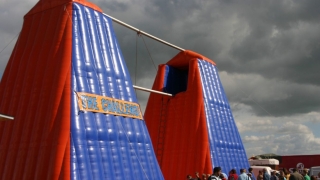 | | |
| --- | --- |
| Wanneer? | Tue 15 Aug 14:00 |
| Toernooiformaat? | 1v1 |
| Waar? | Activity field |
This competition / activity does not require subscription. Gather at the specified location at the specified time!
Notify the admin if you want to participate. One player at a time.
Show up on time on the activity field.
Location: Activity field
Time: Tuesday August 15, 2 PM

Op 6 meter hoogte moet jij over een balk met alleen een veiligheidsharnas aan naar de overkant zien te balanceren. Enter 'The High NWTV Challenge'!

The Challenge is onze nieuwste aanwinst die jou als deelnemer gaat uitdagen om je grenzen te verleggen en je angsten te overwinnen. Over een balk lopen klinkt makkelijker dan dat het in werkelijkheid is en daarom willen wij de opdracht zo simpel mogelijk houden. Geen gedoe met blinddoeken, zeep of waterkannonen (al hadden we het wel graag gedaan).

The Challenge is een activiteit op tijdbasis en jij dient de snelste tijd te kunnen behalen om kans te maken op een geweldige prijs. De klok begint pas te lopen zodra je het schrille geluid van de leidersfluit hoort, dus sta paraat om uit je startblokken te schieten. Zodra het fluitsignaal af gaat klim je zo snel mogelijk de ladder omhoog, waarna je vervolgens jezelf balancerend over de balk beweegt om aan het einde de bel af te laten gaan. Zodra de bel afgaat stopt jouw tijd en noteren wij deze op het scorebord.

Laat zien dat je meester bent over deze uitdaging en overwin je angsten!