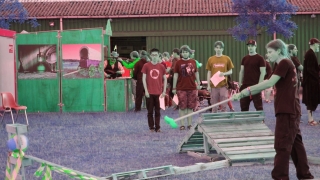 | | |
| --- | --- |
| Wanneer? | Fri 11 Aug 20:00 |
| Toernooiformaat? | 1v1 |
| Waar? | Stage Area, Activity field |
This competition / activity does not require subscription. Gather at the specified location at the specified time!
Show up on time near the Stage Area to receive your scorecard. Games are played one contestant at a time. Location: Stage Area, Activity field Time: Friday August 11, 8 PM

Hear ye, hear ye! CampZone is overgenomen door een groep duistere heksen en tovenaars en veranderd in een plek vol mysterie, draken, elfen en een hoop ander magisch ongein. Voor het eerst heeft CampZone een heus decoratieteam bestaande uit enkele van onze trouwe cosplayers die niet kunnen wachten om CampZone mooi aan te kleden. Om ze gelijk een waardige uitdaging te geven zal deze editie overgoten worden met een klassiek fantasysausje, dus verwacht tovenaars, middeleeuwse spelletjes en enkele magische verrassingen.

Alle inwoners van het land van CampZone bereiden zich al maanden voor op alle festiviteiten die ze te wachten staan. Deze periode van vertier is het hoogtepunt van elk jaar en dat moet volgens traditie natuurlijk geopend worden met een grote gebeurtenis. Waar wij vorige jaren openden met een kermis vol clowns en een bedrieglijk casino starten wij CampZone deze keer geheel in lijn met het thema met een betoverende middeleeuwse Mystery Fair!

De eerste officiële avond staat in het teken van middeleeuws vermaak. Neem je ridderbuddies en prinsessen mee naar onze Fair om daar je kunsten te laten zien aan het publiek maar bovenal aan onze GameMasters. Doe je het goed genoeg in de proeven die zij voor je klaar hebben liggen dan krijg je punten op je naam waar je aan het eind van de avond wonderlijke prijzen mee kan winnen. Doe dus vooral mee aan elk spel dat wij te bieden hebben want elk punt kan het verschil maken tussen een geweldige trofee aan je kasteelmuur of een trieste steniging op het dorpsplein.

Natuurlijk zijn ook de spelletjes helemaal omgetoverd naar ons nieuwe fantasythema. Schuif je schijven het juiste vak in bij de Simsalasjoelbak, vind je weg door het Betoverde Doolhof, toon je mikkunsten bij Lord of the Ringworp en steek de duivelaanbidders neer tijdens Gothicje Prik. Er is voor iedereen wel iets te doen, avonturiers zijn welkom in alle maten en vormen. Dus kom op vrijdag je lijst met queestes ophalen en probeer ze allemaal te voltooien, want voor de kampioenen staat er dikke loot te wachten!