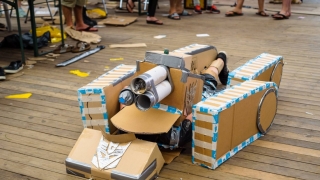 | | |
| --- | --- |
| Wanneer? | Sun 13 Aug 13:30 |
| Toernooiformaat? | 1v1 |
| Waar? | Stage Area |
This competition / activity does not require subscription. Gather at the specified location at the specified time!
Show up on time in the Stage Area, we're expecting more participators than last year. Rules and format will be explained at the start.
Location: Stage Area Time: Sunday August 13: 13:30

Bloed, zweet, heel veel werk en vast ook wel een traantje of twee. De cosplayers die bij ons voorbij komen op onze evenementen ervaren een hoop frustratie en woede, wat gelukkig uiteindelijk wel resulteert in geweldig mooie kostuums die je favoriete karakters tot leven brengen. Voor elk kostuum wordt wel een flinke lading hoge kwaliteit knutselmateriaal gebruikt. Maar het kan ook zonder!

Super mooie en ingewikkelde kostuums maken met dure materialen is natuurlijk leuk, maar om echt te kijken wie de creatieve talenten zijn, geven we je een gigantische berg troep om je droomcosplay te maken! Denk dan aan karton, tasjes, knipseltjes en meters aan duct tape. Wie kan met al deze zooi toch een herkenbaar kostuum maken van een karakter uit een film, game of serie?

Iedereen mag mee doen aan deze competitie, of je nou een ervaren cosplayer bent, altijd al diepe wensen hebt gehad om er eentje te worden of gewoon lekker een middagje wilt knutselen, voel je vrij om een schaar op te pakken en aan de slag te gaan. Geen aanleg voor het maken van fancy cosplays? Dan is dit de perfecte pauperoplossing om toch je wensen waar te maken!

Er zijn natuurlijk mooie prijzen te winnen voor degene die het meest lijkende kostuum in elkaar kan zetten, en er komt natuurlijk ook nog eeuwige roem bij! Wie wil nou niet bekend staan als de "cosplay trashking of trashqueen" van CampZone?

Aarzel niet langer en kom creabea-en! Materialen en prijzen worden verzorgd door Proptimum.