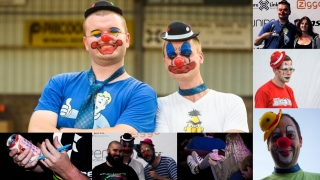 | | |
| --- | --- |
| Wanneer? | Sat 12 Aug 20:00 |
| Toernooiformaat? | 1v1 |
| Waar? | Stage Area |
This competition / activity does not require subscription. Gather at the specified location at the specified time!
Show up on time in the Stage Area, no need to sign up to participate in the Bingo. You'll receive your Bingo-cards from our staff.

Bingo is part of the official CampZone opening, which starts on Saturday August 12 at 8 PM

Bingo: een activiteit waar een gast in een microfoon een letter met een cijfer omroept en waar je deze combinatie markeert op je kaartje mits het aanwezig is. Na het spelen van dit spelletje voor een aantal minuten is er vaak al iemand die vijf combinaties diagonaal, horizontaal of verticaal op een rij heeft en keihard " BINGO!" roept. Iedereen applaudisseert en de winnaar mag een prijs uitkiezen. Over het algemeen wordt dit echter alleen gespeeld door mensen die al ver over de houdbaarheidsdatum zijn.

Maar niet op CampZone! Al jaren lang blijkt bingo op CampZone erg populair en gezellig te zijn. De hele tent stroomt altijd propvol, er lopen debiele clowns op het podium en er worden mooie prijzen gewonnen. Bingo zal dit jaar dan ook zeker niet ontbreken met de veel betere en snellere variant, wat een stuk spannender is dan wat de oudjes spelen. Dit keer zonder dat de crew zich voor schut zet als clown zijnde, maar dat betekent niet dat er andere plannen zijn!

Kom dus zeker naar de bingo, neem een eigen stoel en pen mee en bewijs dat dit niet alleen voor oudere mensen zonder leven is. De prijzen zijn het zeker weer waard om voor te rellen!