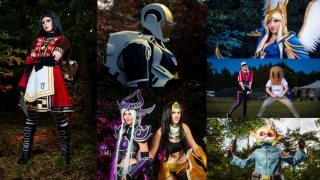 | | |
| --- | --- |
| Wanneer? | Sat 12 Aug 20:00 |
| Toernooiformaat? | 1v1 |
| Waar? | Stage Area |
This competition / activity does not require subscription. Gather at the specified location at the specified time!
Come gather in the Stage Area for the CampZone Cosplay Show! This is part of the official CampZone openingsshow.

Location: Stage Area
Time: 8 PM

Karakters uit bekende games komen tot leven op CampZone dankzij alle geweldige cosplayers die ons evenement komen bezoeken! CampZone zag in 2016 de eerste cosplayshow en de ontvangst van zowel het publiek als de cosplayers zelf was grandioos. Natuurlijk komt dit toffe nieuwe onderdeel van de officiële opening dan ook weer terug voor een tweede editie! Want wat is een CampZone met een fantasythema nou zonder een groot scala aan rondlopende fantasypersonages?

Verwacht cosplays te zien van een hoop verschillende games en genres, zowel indie-games als AAA-games. Natuurlijk kan League of Legends niet ontbreken als populairste game op elk evenement dus de cosplayers zorgen ervoor dat je LoL niet hoeft te missen. Dé game-hit van het afgelopen jaar, Overwatch, zal ook ruimschoots vertegenwoordigd worden in de show. Genoeg variatie in genres zoals horror met Silent Hill en Five Nights at Freddy's en grote RPGs met Skyrim en Fire Emblem. Met zoveel verschillende en kleurrijke games zit er vast wel voor iedereen iets tussen wat je aanspreekt. Wij kijken er in ieder geval al naar uit om al dit moois op ons podium voorbij te zien komen.

De jurering van de voorbijkomende cosplays zal gedaan worden door drie getalenteerde cosplayers waarvan er twee al bekend zijn met CampZone. De eerste juryplek zal ingenomen worden door onze winnaar van de CampZone 2016 show: Waynes Workshop die de prijs won als Iron Man! Wayne wordt bijgestaan door Sanne van Levy Cosplay die op The-Party 2017 haar debut als jurylid had en op Animecon 2017 de ECG cosplaywedstrijd won. Het laatste jurylid is Alana die op Animecon 2017 de overwinnaar was in de WCS cosplayshow, wat resulteerde in een tripje naar Japan. Deze jury zal goed gaan laten op de kwaliteit en vakkundigheid van de cosplays om er een welverdiende winnaar uit te halen!

De CampZone Cosplay Show is onderdeel van het officiële openingsprogramma (met onder meer de welbekende Bingo en het openingspraatje) wat op zaterdag 12 augustus rond 20:00 uur zal beginnen in de Stage Area. Houd er rekening mee dat de zaal snel vol zal zitten dus wees er op tijd bij voor een plekje of neem je eigen stoel mee. Kom je favoriete karakter/cosplayer aanmoedigen tijdens de show!