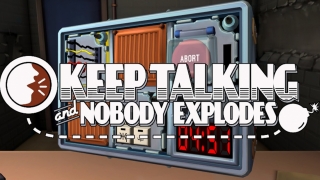 | | |
| --- | --- |
| Wanneer? | Mon 14 Aug 13:30 |
| Toernooiformaat? | Team vs Team |
| Waar? | Stage Area |
Voordat je in kunt schrijven moet je inloggen!
Teams of 2, Rules will be defined later.
Sign up ahead of time here.
Location: Stage Area
Time: Monday August 14, 13:30
In het spel Keep Talking (volledige titel: 'Keep Talking and Nobody Explodes') is goed communiceren de sleutel tot victorie! Kom je communicatieskills en observatievermogen testen met deze gloednieuwe competitie in de Stage Area!
In deze game ben je opgesloten in een ruimte en wordt er een bom voor je neus gedropt. Veel succes ermee!
…
Oké vooruit, je hoeft dit probleem niet in je eentje op te lossen.
Het explosief is maar voor één speler zichtbaar die de bom mag gaan ontmantelen, terwijl de teamgenoot zich mag wanen in de rol van een bomexpert inclusief handige manual om te helpen. De spelers moeten hardop met elkaar praten om uit te vogelen welke draadjes geknipt moeten worden om de bom onklaar te maken! Ook zijn er allerlei knoppen die juist wel of juist niet ingedrukt moeten worden, om nog maar niet te spreken over de willekeurige codes die je moet gaan invullen!
Knip je het verkeerde draadje? Druk je op de verkeerde knop? Dan zijn de desastreuze gevolgen meer dan duidelijk (iets met een explosie en een sterfgeval).
Om de Bomb Squads motivatie te geven om goed hun best te doen (naast natuurlijk niet dood gaan) zijn er vette prijzen te winnen, gesponsord door 
SteelSeries!
Waar wachten jullie nog op? Doe mee en ga vooral niet op de vuist met elkaar na de ontploffing!